Monday, November 12th, 2007
---
11:11 pm
- Chile
I'm back from
Chile
and it was really really nice! I enjoyed travelling so much and Markus and I spent a wonderful time together! As I'm fond of lists:
Tuesday, September 4th, 2007
---
6:28 pm
A funny joke about different countries and stereotypes I found at work today in a magazine about teaching foreign languages. The article was intercultural learning and teaching and awareness and the search for the individuum and the advantages and disadvantages of Auto- and Heterosteorotypes, so all very "academic" ;-)

On a beautiful deserted island in the middle of nowhere, the following people are stranded:
2 Italian men and 1 Italian woman,
2 French men and 1 French woman,
German men and 1 German woman,
2 Greek men and 1 Greek woman,
2 English men and 1 English woman,
2 Polish men and 1 Polish woman,
2 Japanese men and 1 Japanese woman,
2 Australian men and 1 Australian woman,
2 New Zealander men and 1 New Zealander woman,
2 Irish men and 1 Irish woman,
2 American men and 1 American woman.

One month later, the following things have occurred....
One Italian man killed the other Italian man for the Italian woman.
The two French men and the French woman are living happily together in a ménage à trois.
The two German men have a strict weekly schedule of when they alternate with the German woman.
The two Greek men are sleeping with each other and the Greek woman is cleaning and cooking for them.
The two English men are waiting for someone to introduce them to the English woman.
The Polish men took a long look at the endless ocean and one look at the Polish woman and they started swimming.
The two Japanese men have faxed Tokyo and are waiting for instructions.
The two Australian men beat each other senseless fighting over the Australian woman, who called them both "bloody wankers" and is checking out all the other men.
Both New Zealand men are searching the island for sheep.
The Irish began by dividing the island into North and South and setting up a distillery. They do not remember if sex is in the picture because it gets sort of foggy after the first few liters of coconut whiskey, but they are satisfied in that at least the English are not getting any.
The American woman keeps on bitching about her body being her own, the true nature of feminism, how she can do everything that they can do, about the necessity of fulfillment, the equal division of household chores, how her last boyfriend respected her opinions and treated her much nicer and how her relationship with her mother is mproving. The two American men have committed suicide.

I just wonder what happened to the NZ woman ... But I loved the part about the strict German schedule ;-)))
Monday, September 3rd, 2007
---
10:26 pm
I have stolen this from
dangerouss. So now I finally have my own wand ;-)))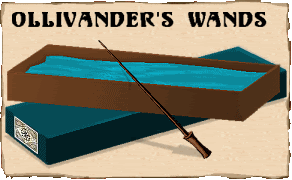 Wood type: birch


Length: 11 inches


Core: Gryffon Feather
With the exception of the mysterious elder, the Birch is the earliest of the forest trees. Though they make beautiful, smooth wands with a nice sheen if polished, birch is nevertheless known for it's 'flaky' qualities. The bearer of this wand could not be more different, in fact those who find a Birch wand has chosen them tend to be some of the most logical thinkers or strategists. These wands excel at driving out evil spirits, and for Purification spells. They are also very good for spells involving structures, support, shielding, warding, and cleansing.
Birch's personality is Happy
Element: Air
The gryffon originated in Greece, having the head and front legs of an eagle, but the hind quarters of a lion. Gryffon feathers are used in wands of wizards or witches who posses great strength whether physically, magically or emotionally. These wands are especially good for both offensive and defensive magic.
Sunday, September 2nd, 2007
---
11:41 am
This morning my BFF
lea_ysaye left to London where she is going to find herself a job (so that I don't need to pay for accommodation anymore whenever I go to London) and I drove her to the airport very very early in the morning. Once we got there we realized that having paid for an extra piece of luggage doesn't mean to be allowed to take more weight so we spent 20 funny minutes in the car park making one big full bag out of two rather full ones (she tried to smuggle more pairs of socks and knickers into Britain than I ever possessed in my whole life, among other "essential" stuff like bags of salad herbs, multiple sockets ...) and then had to get rid of five more kilos at the check-in desk (as they charged 10 Euros per kilo). I hope she did get into the plane on time as she was the last to check in ... In the meantime I went back to her parent's house and left all the things she couldn't take in their living-room. They'll probably have a really happy time sorting out all that stuff when they come home tonight ...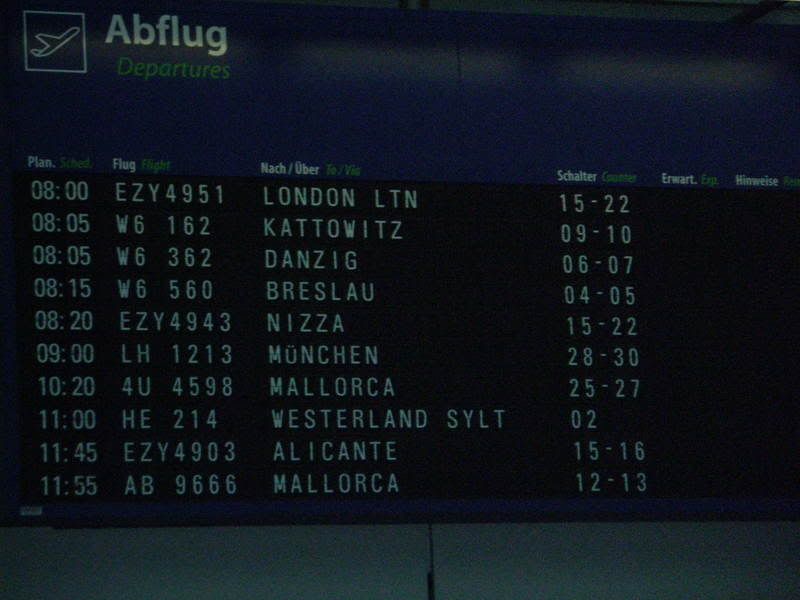 Monday, August 13th, 2007
---
10:54 pm
- Olympus Fe 240
I just bought my first little digital camera! Am still feeling sorry for my wonderful old analogue Minolta but anyway, the new one is great and I can finally upload picture and put them into the internet!



view from the living room / orchid in living room

current mood:
happy
Friday, June 29th, 2007
---
12:21 am
I have just answered a 28-question-list in a lj and thought it might be nice to put it on my lj as well. So if you like, please feel free to answer it! I look forward to it!

1. Your Middle Name:
2. Age:
3. Single or Taken:
4. Favorite Movie:
5. Favorite Song or Album:
6. Favorite Band/Artist:
7. Dirty or Clean:
8. Tattoos and/or Piercings:
9. Do we know each other outside of LJ?
10. What's your philosophy on life?
11. Is the bottle half-full or half-empty?
12. Would you keep a secret from me if you thought it was in my best interest?
13. What is your favorite memory of us?
14. What is your favorite guilty pleasure?
15. Tell me one odd/interesting fact about you:
16. You can have three wishes (for yourself) - what are they :
17. Can we get together and make a cake?
18. Which country is your spiritual home?
19. What is your big weakness?
20. Do you think I'm a good person?
21. What was your best/favorite subject at school:
22. Describe your accent:
23. If you could change anything about me, would you?
24. What do you wear to sleep?
25. Trousers or skirts?
26. Cigarettes or alcohol?
27. If I only had one day to live, what would we do together?
28. Will you repost this so I can fill it out for you
Friday, April 13th, 2007
---
7:32 pm
- Vamos a Latinoamerica!
Hurrah, today we booked our flights to Santiago the Chile. We'll only be leaving on October 5th so still a long time to wait for our summer holiday but both employers allowed us to take a four-weeks-holiday what's really lucky. Should go back to my Spanish books now and continue with imperfecto and indefinido ...


current mood:
happy
Monday, April 9th, 2007
---
10:09 pm
- Voy a Santiago de Compostela!
Last year a rather famous German comedian Hape Kerkeling has published a book about his walking tour along the Camino de Santiago and it became a bestseller at once. I always found that rather awkward but during Easter break I accidently came across the book and read it within two days and found it amazingly interesting and beautiful. Ok the walking part is very tough but it must be such a great opportunity to relax, calm down and think. And there seem to be beautiful villages and great food on the way ;-)
lea_ysaye - we talked about going the Camino de Santiago before - let's skip our plans about NZ and Australia and go to Spain :-) You were so right about the book! Vamos de vacaciones a Espana! Encantada!
Wednesday, March 14th, 2007
---
11:23 pm
I'm going to watch Joanna Newson live in concert in Cologne on April 17th! So amazing! Increíble! I just discovered it by accident - Markus was a bit upset as he was planning to give it to me as a birthday surprise - bad luck ;-)



lea_ysaye any news from the AC?
Wednesday, January 24th, 2007
---
6:50 pm
Yes, we still don't have telephone a again (probably due to the storm) but at least we have internet again after about five days without. It's amazing how important this technology is in these days to get information. Yesterday we tried to get to know the programme of a cinema by phone but no chance - one number in the phone book was wrong and nobody answered the other one. (And I left my keys with the only postbox key we have at my parent's house -
lea_ysaye - are you going to Düsseldorf this weekend ;-) - he curious old lady from next door almost called the police when she saw me trying to get at least some mail out of the postbox ...)

And just one more night of sleep left (and my gym class tonight :( ) until we our annual visit to the Rotterdam film festival Hurraaahhh!!! 17 films in 4 days and I'm really looking forward to the hongkong film about three working class women starting belly dancing classes (unfortunately no Czech films this year - just a Polish one and a Croatian indie). And probably a visit to the wonderful bookbinding store in Den Hague!
Sunday, December 31st, 2006
---
12:37 pm
Hi
lea_ysaye: as we were just talking about the Twin Peak's twelve days of Christmas - here are mine: (I especially love the biking cactuses ;-))


Twelve friends drumming

Eleven lilacdays piping

Ten candles a-reading

Nine cactuses biking

Eight succulents a-marbling

Seven cakes a-traveling

Six flowers a-bookmaking

Five art jo-o-o-ournals

Four photo albums

Three film festivals

Two indie films

...and a tea in a skvorecky.
Sunday, October 8th, 2006
---
12:13 pm
- New community
Hi, I studied Czech language and culture and I have just created a new community on Czech culture:
czech_culture
Please feel free to join, post, comment ...


x-posted
Friday, October 6th, 2006
---
5:13 pm
- Who needs Schloss Neuschwanstein if he has Zeche Zollern?
Last weekend we went on the "Ruhrpott-Tour/ruhr area tour II" with some friends of us to show them the beauty of the ugliness old industrial places that now turned into cultural/industrial art, the so-called "industrial art". So now, in former pits you'll find museums, can visit theatre plays, see expositions ...

Here comes my favourite one - guess what it is:

a church?





an old railway station?





No, it's a former coal-mine in Art nouveau!


Sunday, September 24th, 2006
---
10:23 pm
- The Parfum
Hi
lea_ysaye - here is my "super" photo of Tom Tyker (finally), taken at the premiere of his new film The Parfum based on the book by Patrick Süskind. The film was ok, well, regarding the fact that it is very difficult to film a story like that I think he did his job very well (although some parts very a bit too long). But the best was the wonderful cinema (www.lichtburg-essen.de) and the q&a with Tom Tyker afterwards - he is not only good looking but also very very funny and told us about many weird and interesting things that happened during the shooting.


Friday, September 1st, 2006
---
9:49 pm
This is to
lea_ysaye who gave me the wonderful film "if these walls could talk 2" that I have just watched. And she was totally right - the film is so lovely and I never thought that I would feel as emotionally attached to a lesbian film as I would be to a well-made one about heterosexual love and fate. Vanessa Redgrave was so perfect in the first episode and I cried through at least half of it, got better during the second epidode and laughed almost the whole time during the third one. Yes - I also didn't know that Sharon Stone could be such a funny actress!
And when I ever had to go and get sperm from a sperm bank I think I would be just like the one who went there (although I rather see myself like the other one; having my legs outside the top window in a car ...
Monday, August 7th, 2006
---
7:01 pm
- Arty weekend
What a great weekend! At first we went to see one of the most beautiful films I've seen for months: Almodovar's Volver!
And then we went to the Folkwang museum to the an huge exhibition of Caspar David Friedrich (http://www.cdf-ausstellung.de). I was a bit sceptical in the beginning as usually I'm not too much into romantic painters but after the girlfriend of a friend who is working as a guide there gave us a tour and told us the essential bits and pieces about Friedrich I was totally fascinated (maybe because of him being a kind of "controll freak" with regard to his paintings;) ).




Just one work day left until summer holidays :))))
Saturday, July 22nd, 2006
---
12:58 pm
- Friday morning
Every morning on my day to work last week I thought that it was much too warm and sunny to go to work and that it would be perfect weather to go to a park and read a good book instead - well, and yesterday my "dream" became kind of true ... and I spend half of the morning under this lovely tree reading Milan Kundera's Immortality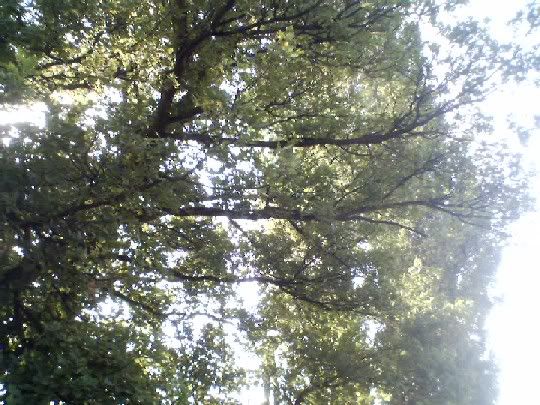 Well, but the circumstances were kind of weird. I was at the main station at seven in the morning, tired but ready to take the train to work but then the train conductor realized that the train had a technical problem so we couldn't go - that meant waiting half an hour for the next train to the kind of "rural" town where I'm working. Then the next train had to brake really hard on its way, it rumbled quite a lot and I heard the train driver shouting "What a shit". My first thought (somebody who wanted to end his life had decided to lie down on the rails) wasn't true but we had hit a car which was standing halfway on the rails even though the gates where closed (later it turned out that the car driver had been a 74-years-old woman who had thought to drive around the gates to cross the rails (crazy!!!) and then her car broke down in the middle of the rails). Luckily nobody was killed (even the crazy old lady had managed to get out of her car before we hit it) but now we were in the middle of nowhere, between a cabbage and a wheat field with about hundred people (one had to catch an airplane) and had to wait for buses to take us to the next train stop. And as this took about two hours to prepare I had lots of time sitting under this lovely tree instead of hanging around in the stuffy office. In the end I only arrived at work at 11 o' clock and left again at half past one - what a great day :)))

In total due to the accident 27 (!) trains were canceled, there were delays for the next 12 hours on this train connection and I guess the woman will never get out of debts again - paying for the damaged train which lost 700 l of diesel, for the police, ambulances, fire brigades checking the ground water for diesel ...
Monday, July 17th, 2006
---
10:13 pm
Congratulations to
lea_ysaye who just finished her final thesis!!! Have fun in London! Here is a great picture taken in Hyde Park (to get in the right mood for your London trip :) )in the 1920s: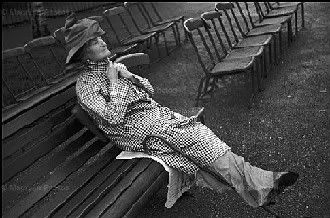 Shot by lovely Henri Cartier-Bresson - we went to the "place to be" Oberhausen to see a huge exhibition of his photos (and later drawings) - wonderful, although it has already been my third exhibition of him. Luckily, after having spent more than two hours in the museum, we realized that we had left the directions and map for the intended bicycle tour back home (more than 50km) on the kitchen table - and decided to cycle just a bit and have a lots of ice cream instead - much better like that :)))
Friday, July 14th, 2006
---
10:36 pm
- Post-World-Cup-Nostalgia
A great postcard for all you friends before the World Cup (it says "without you everything is stupid - bugs, trees, me, butterflies, sun, flowers"):





and that's what a collegue gave to me yesterday :)))


current mood:
nostalgic
Sunday, July 9th, 2006
---
1:30 am
- Mit dem Herz in der Hand und der Leidenschaft im Bein ...
We are third in the World Cup - OH wie ist das schöööönnn! It's amazing - I was never really interested in football but this time I was totally crazy about it - it's so nice to see all these happy Germans outside - waving with their flags!
Well, who thought that the Germans can actually celebrate and be happy like this lovely guy:




He is so great and I have never seen someone jumping as high as him (ok, maybe the Croatian coach who always jumped into the arm of everyone though he didn't have too many occasions for that)

Well, the fact that we won tonight made my weekend (which so far looked like that: Friday evening: missed the Czech film "Cesky sen" I have been looking forward to for ages as boyfriend forgot to switch of the radio in the car (some days ago) and while trying to use the whatsoever-cable probably did even more damage to my lovely car (still not working); read the final thesis of
lea_yasaye - though it was very interesting, especially since I got to know that the topic was slightly different than I thought - auddenly everything made more sense ..)
well, ok there was another good thing on Friday - at work we got the new DUDEN with the new German orthography rules :)))))
Hm, I guess only people who work in publishing houses can understand why I'm so happy about that :)

54, 74, 90, 2010!!!!!

current mood:
cheerful